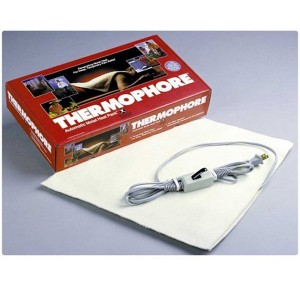 If you are looking for a Holiday gift for your loved one with muscle tension, stress, or arthritis pain, look no further than the Battlecreek Thermophore Heating Pad.
Thermophore Classic is the heating pad of choice for most massage practitioners who don't have the facilities to support a Hydraucollator (a moist heat system which requires more space).
I own a Thermaphore both at home for personal use, and in the office to use on clients. The heating coils are protected by cotton canvas. It has a weight to it that feels nice, and is flexible enough to wrap around the neck and shoulders or limbs. The heat is a moist heat, and gets very hot, so beware of the burn risks, and never apply it directly to your skin. Luckily too, it comes with a cozy fleece cover! You needn't waste your money on those cheap-o plastic heating pads from drugstores any more.
Thermaphore heating pads cost upwards of $79.99, but the price is fair because it's a good product. You can buy right from the company's website at Thermophore.com, shipping is FREE, and they are manufactured in the USA.
Note: this is not an advertisement. Just an endorsement of a product I find to be superior, and am happy to support.