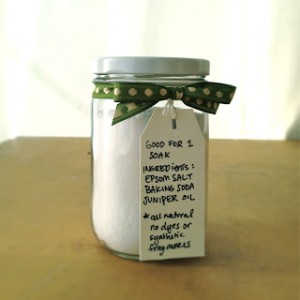 As each year comes to an end, I find myself counting my good fortunes.  One of them is that I have loyal clients who trust me.   I consider myself privileged to have customers who are actually glad to see me, and that I make a living this way.  Showing gratitude for it is my way to end the year, and start the new one on the right foot.
There are a lot of ways to do this and keep costs low, from a practitioner's point of view.  This year I decided to mix up a homemade batch of bath salts.  It's inexpensive, and the gesture–of the preparation and the gift of time–outweighs the dollars and cents.
Bath salts should be kept simple.  Sea Salt and Sodium Bicarbonate can be purchased in bulk from a local grocery store, and jars can be re-used, or bought second-hand.
Ingredients:
1 cup Sea Salt, Epsom Salt, Kosher Salt or Dead Sea Salt
1 cup Sodium Bicarbonate
4 drops of Juniper Berry all natural essential oil
The sea salt will draw toxins from your pores and the baking soda will regulate your skin's pH – and it feels great.  The juniper berry will help soothe tired or achey muscles, and smells nice as long as it is naturally derived.
If you are long overdue for a soak in a hot bath, remember that you don't need fancy bath salts that have dyes and chemical fragrances, and are WAY overpriced.